Hello LWR readers, lovers, patrons and general badasses. In an effort to connect with you more, we've partnered with Katy Ballard who will be writing blog posts based on various events around town that LWR deems awesome. Katy will keep you posted on behind-the-scenes product shoots and studio sewing sessions. She will occasionally write mini profiles on Austin style eccentrics, business owners and so forth that inspire and intrigue the LWR crew. We'll also be starting a new series, Get Laced, which photographs real girls in three outfits from the store coupled with a mini Q&A. And expect Giveaways! -- quite possibly one of the more exciting pieces of news for our readers. Stay tuned, be engaged, and visit us!
Here's a run-down from the Alchemy Trunk Show at Feathers Boutique Katy attended with the LWR ladies, Stephanie and Bekah: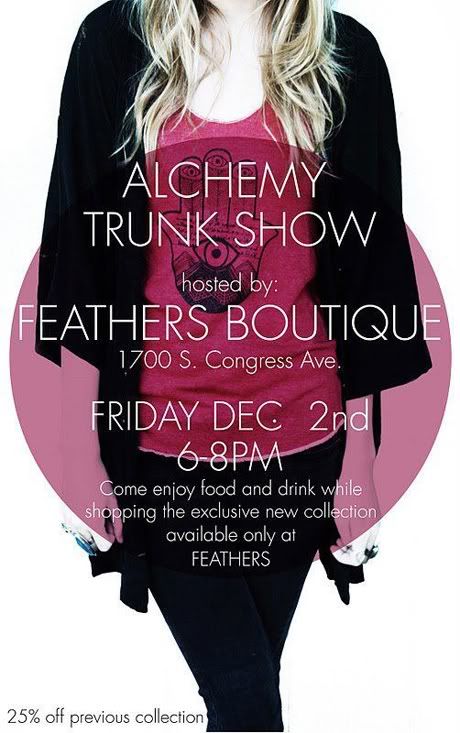 Friday night kicked off a busy weekend for us. Feathers Boutique hosted a trunk show for their latest collaboration with Alchemy Design, an Austin-based print graphic duo with a touch of mystic. It was an intimate affair as people -- mostly other Austin vintage-heads and style aficionados -- gathered in Feather's cozy quarters to browse the designs of Ed Davis and Christina Simon aka the minds of Alchemy. The Feathers-Alchemy line of shirts and tanks is without name, but the designs speak for themselves. Geometric patterns and ancient Egyptian symbols set on hand-dyed shirts evoke a sense of mystery and power, as though wearing an Alchemy design will embed you with advanced universal understanding. The inspired designs consist of the Eye of Horus, a symbol for protection and good health; the Hamsa, which is a universal sign of protection; the Horus Falcon, one of Ancient Egypt's oldest dieties; and the Ajna, the sixth Chakra associated with the Third Eye. It's no wonder half the show's attendees were wearing Alchemy's shirts or stocking up. We'll let you in a little secert too -- LWR is scheming on a collaboration with Alchemy. Check out their
digs @
(
www.thealchemystical.com
) +
the resent editorial styled by Emily Hoover of Feathers Boutique and shot by Alexandra Valenti @ (www.feathersboutiquevintage.blogspot.com)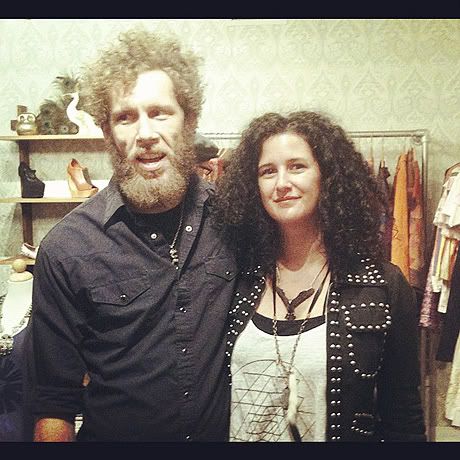 Ed & Christian / Alchemy Designs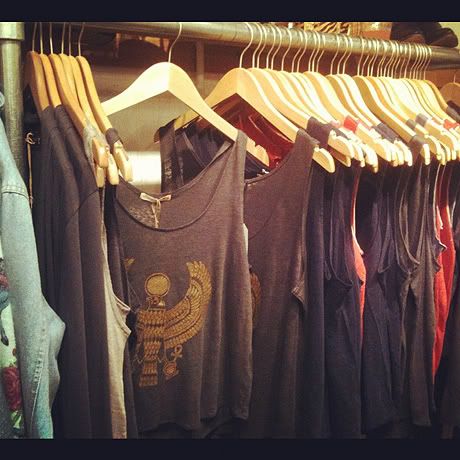 Horus Falcon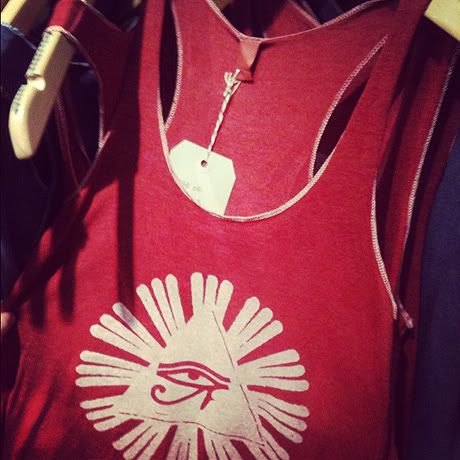 Eye of Horus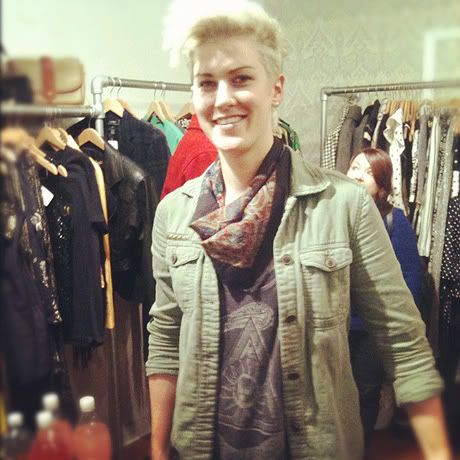 Indigo Echo

Alchemy Geometric Tank / Dust & Drag Crochet Robe

I must admit, I did love seeing the D&D + AD combination!!!

Also, stayed tuned for a behind-the-scenes product shoot with LWR model, Sara Cummings and photographer, Matt McCoy.