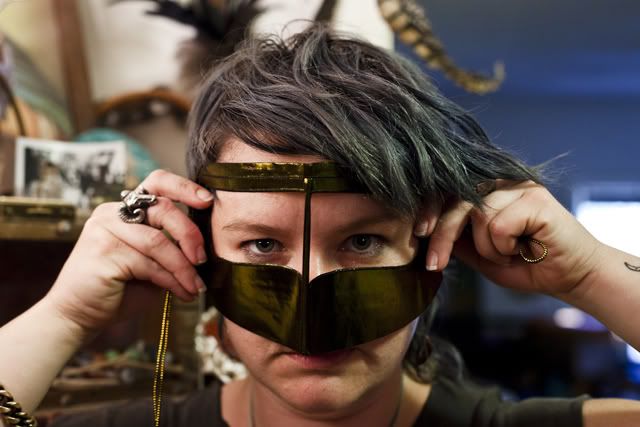 "My name is
RIMA SHEEGOG
.
I was born to a horse trainer mother and a pilot father in a rural area north of the Houston swamp in Texas. I grew up running around barefoot, catching snakes, making art, and riding horses. My parents nicknamed our homestead the 'funny farm' because we had everything from peacocks to alligators. My mother said that when I was little I was constantly building things she called 'alters'. To this day, any space I'm in for awhile I fill with small objects. I'm on the boarder of being a hoarder, but I think 'magpie' is a nicer way of putting it.
I have been working as a traditional jeweler and goldsmith for ten years. I earned a Master of Arts degree in metalsmithing and sculpture from Stephen F. Austin University in Nacogdoches, Texas. While attending college, a local master jeweler took me on as an apprentice. That is where I gained a more refined touch for the miniature and developed the classical skills of a bench jeweler. I believe I had to become a fine jeweler to find my own voice. Finding your own aesthetic, that 'voice', takes many years.
I actually never thought I'd be a jeweler because I was always an artist of other media, of painting and sculpture. Ironically, I did in fact have a pretend jewelry business during my elementary days starting at around age seven. I would display my creations--mostly beads and bones and such--for relatives and friends to possibly purchase for under a dollar.
I am currently burning the candle at both ends working 9 to 5 as a custom jeweler and metal caster at a high-end artisan shop in Austin and designing my line
RIMA HYENA & THE CHILDREN OF THE COMING BRIGHT DAY
. The work I do in the artisan shop is so highly refined and traditional that I can't wait to break the rules of size, design, and finishes with my own work.
I like the odd, old and sacred, even if it only looks sacred because it looks odd and old. I like to give my work narrative even if its only implied. As I get older, music plays a bigger part in my inspiration. The lyrics. The memories associated with certain songs. I am also inspired by symbols and imagery. Another rich source of inspiration for me is my humble inquiry into existence, nature, science, music, literature, art, mysticism, and even theories in physics, and philosophy.
I have become a purveyor of trinkets for the modern mystic. I build headdresses, talismans, amulets, jujus, hoodoos, and objet's d'snake spit, and continue to build my own symbolic vocabulary. I make jewelry for people who want something special, who feel something special when they see it and wear it, not because it matches their outfit.
With a healthy dose of humor and magpie curiosity, I make make make."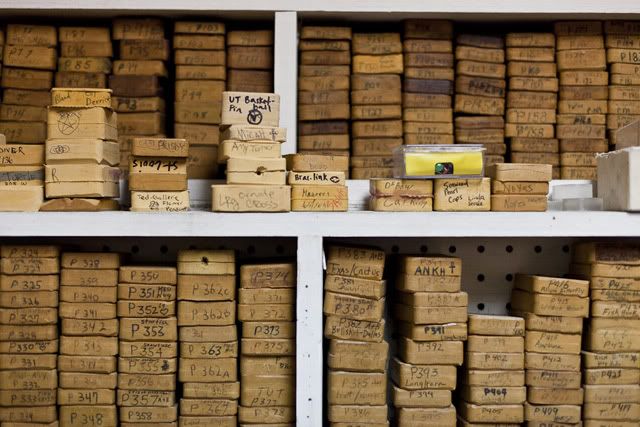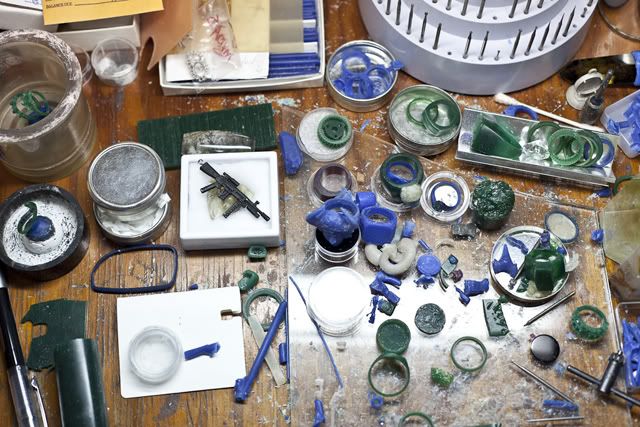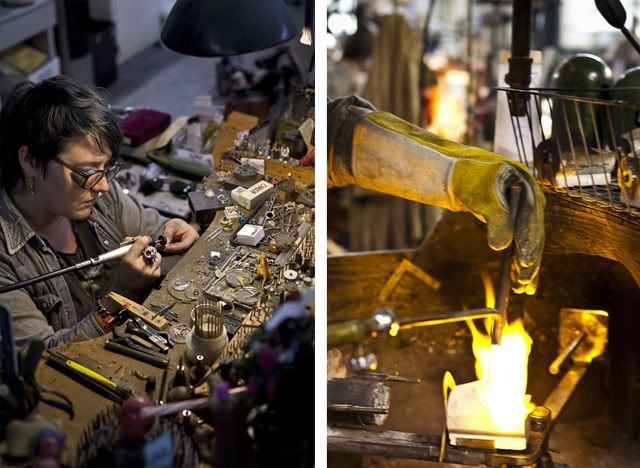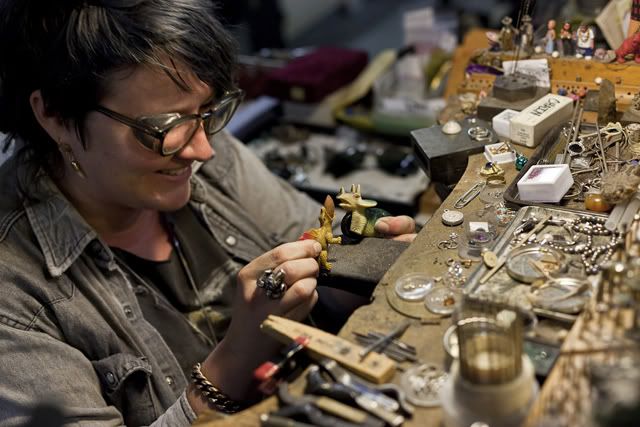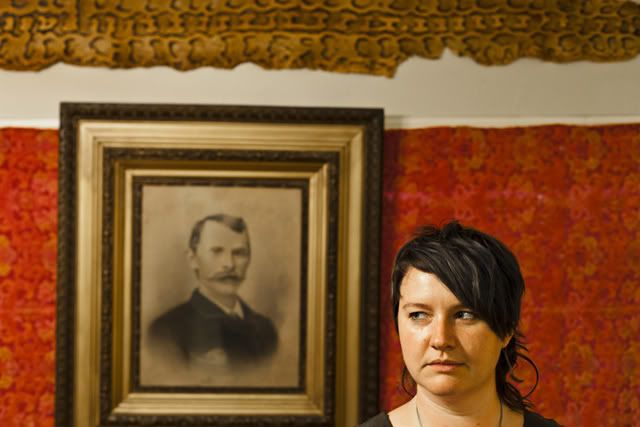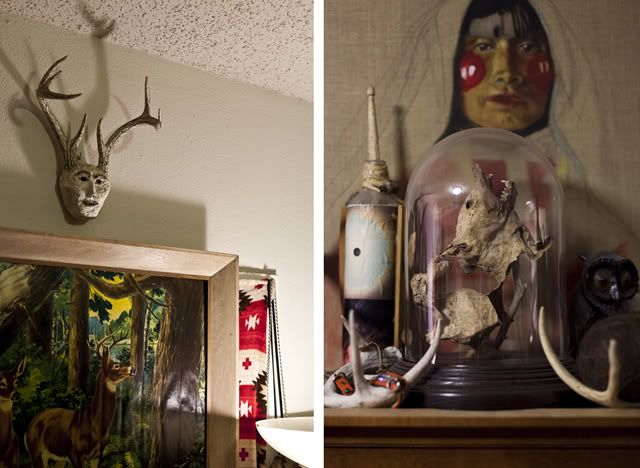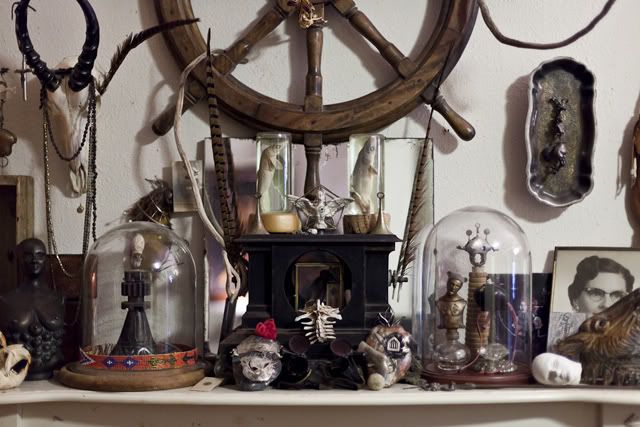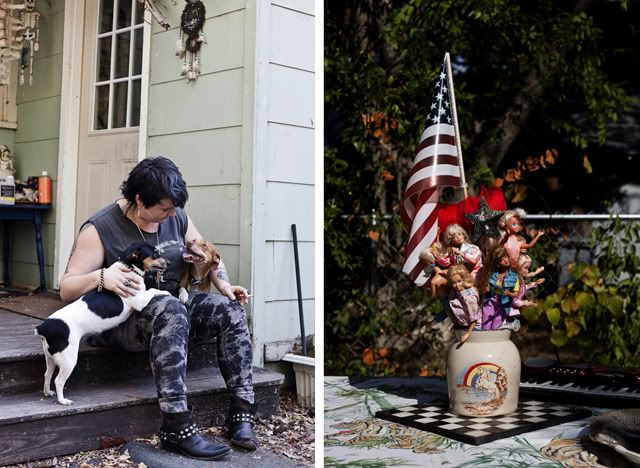 Laced With Romance is proud to collaborate with Rima on the Dust & Drag Fall 2011 Lookbook. Selections from
RIMA HYENA & THE CHILDREN OF THE COMING BRIGHT DAY
are for sale online at
www.lacedwithromance.com
or in the shop at 1601 S. First Street, Austin, Texas 78704.
WORDS Rima's own
PHOTOGRAPHY
Bobby Scheidemann